TikTok users set to hit 955 million users globally by 2025
Posted on 2023 Jul,31
Data forecasted by Statista & presented by analysts at Basketball Insiders reveals the growth in TikTok users will hit 955m globally by 2025.
TikTok is expected to reach 955.3 million users worldwide by 2025, increasing from the current 834.3 million users in 2023 – marking an increase of 121 million users.
This will result in a 14% increase in users globally in just a two year period.
Whilst TikTok is expected to narrowly miss out on the billion user club, its social media rivals Instagram and YouTube will surpass it.
Instagram is on track to boast 1.44 billion users worldwide by 2025 and YouTube will fall just under the 3 billion mark with an astonishing 2.9 billion worldwide users.
A representative for Basketballinsiders.com commented on the data: "Launched in 2016, TikTok rose to be one of the most popular social app and video platform for global users. In 2021, TikTok had approximately 656 million global users.
"This figure was projected to increase by around 15 percent year-over-year, reaching 755 million users in 2022. TikTok global instals peaked at the end of 2019, with the app amassing over 318 million downloads.
"During 2020 and 2021, TikTok download trends experienced a slower growth, amassing 173 million downloads from users worldwide during the last quarter of 2021."
Looking at TikTok penetration by nation, Saudi Arabia leads the way with around 9 in 10 (87.9%) over 18s using the social media app.
That's almost 6x the global average of 15.9%.
TikTok's penetration in the US is now above the 50% mark (50.3%). In total, 14recorded nations have a penetration rate above 50%.
And 9 of the top 10 countries by TikTok penetration rate are located in Asia, with Chile (9th) being the sole exception.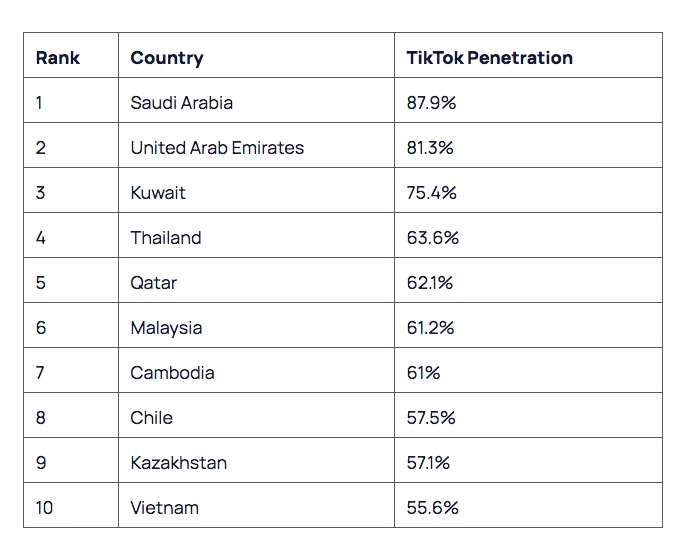 New TikTok Statistics For 2023
The data analysts at Business2Community have compiled 10 revealing TikTok statistics for 2023.
1. TikTok Has Almost 3 Times More Daily Active Users Than Snapchat
TikTok has overtaken Snapchat in the bid for Gen Z's attention – as of 2023, Snapchat had 375 million daily active users on the app, while TikTok boasts a whopping 1 billion daily active users.
2. TikTok Is Worth Between $50 – 75 billion
As of Q2 2023, TikTok is estimated to be worth between $50bn – 75bn US dollars.
The big question – how much is TikTok actually worth? As TikTok is a private company, it is difficult to say for sure, but estimators put it between $50 – 75 billion.
3. Khabane Lame Is The Most Followed TikTok Creator In The World In 2023
As of Q2 2023, Kabane Lame is the most followed TikTok creator in the world with 155 million followers on the app.
According to Statista, the most popular TikTok creator in the world right now is Khabane Lame with 155.1 million followers, surpassing the previous title holder Charli d'Amelio who now has 150.1 million.
4. TikTok Is Banned In Some Countries
As of Q2 2023, TikTok is fully banned in 3 countries & the app is banned on government devices in 3 countries.
Due to an increasing concern from governments about data collection and cyber attacks, TikTok is coming under scrutiny from a number of governments for its close links with the Chinese governments. So far, that the US currently has a piece of legislation debated in the house of representatives alls are being made to ban the app in the US. The social media app is currently banned in India, Pakistan, and Afghanistan. Government bodies have banned the app on staff devices in the US, Canada, Taiwan and three top EU bodies.
So, the facts are clear – TikTok is quickly becoming a force to be reckoned with. Demonstrating record breaking download numbers and incredible levels of user engagement, it's time to face the music – or 'sound' – and start making TikTok a priority in your marketing strategy.
5. USA Has The Largest TikTok Audience In The World
As of 2022, the USA had 135 million users, the largest of any country.
The US has the largest TikTok audience with over 135 million users.
The second largest is Indonesia with 99.07 million and third is Brazil with 73.58 million.
The UK reported 17,464,020 TikTok users in 2022.
6. Twice As Many TikToks Uploaded Than Instagram Reels Per Month
Data from Q4 2022 reveals there are 2.3x more TikToks uploaded than Instagram reels per month.
TikTok appears to be the more popular format for uploading short video content. The average number of TikTok videos posted per month by an active account is double compared to the amount of Instagram Reels posted per month.
The average active TikTok account posts 22.5 TikToks per month, whereas the average active Instagram account only posts 9.8 Reels per month.
7. 25% Of USA TikTok Users Are Aged 10 To 19
Data from Q1 2023 showed that 25% of TikTok users in the US are aged between 10-19.
TikTok mostly appeals to young people, with 25% of US TikTok users aged between 10-19, and 22.4% of users are aged 20-29. Only 11% of users are aged 50+.
This shows a clear decrease in user percentages as age goes up.
8. 50% Of TikTok Users Have Bought A Product After Watching It On TikTok Live
As of 2021, 1 in 2 TikTok users have bought a product after watching a TikTok live.
Much like watching a shopping network, many users turn to TikTok live for the purpose of shopping. A TikTok study, which studied responses from 250 users, shows that 50% of users had bought something after watching it on TikTok live.
9. TikTok Is The 6th Most Popular Platform For Business Marketing
Data from 2022 revealed TikTok to be the 6th most popular platform for business marketing, falling behind Facebook (1st) & Instagram (2nd).
Although no one can deny TikTok's growing popularity, in 2022, 90% of marketers used Facebook to promote their business, while 79% used Instagram. 18% used TikTok to promote their brand, making it the 6th most popular platform for business marketing.
Here are the leading social media platforms used by marketers to promote their business in 2022, from a survey of 2,897 online marketers:
Facebook 90%
Instagram 79%
LinkedIn 61%
YouTube 52%
Twitter 43%
TikTok 18%
Snapchat 4%
10. 70% Of Users Like It When A Brand Creates A New Trend On TikTok
A study released in 2021 found that seven in ten TikTok users prefer brands to create new trends & challenges on TikTok.
It is not enough for brands to simply show up on the platform– they must participate in order to win over consumers. According to a study by TikTok, 70% of users enjoy when brands create new trends and challenges for users to participate in.
[Source: TikTok Marketing Science Global Community and Self-Expression Study 2021 conducted by Flamingo]